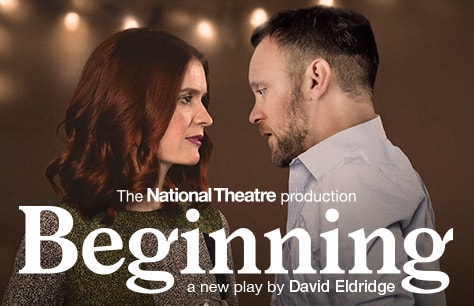 Beginning
Ambassadors Theatre, London
Beginning - Ambassadors Theatre, London
Age Restriction: Children under the age of 5 are not permitted and those under the age of 16 will not be admitted without an adult present.
Important Information: At the Saturday 24th March matinee performance, the role of Laura will be played by Zara Plessard, due to a planned prior commitment for Justine Mitchell.
For the latest West End transfer from the National Theatre we turn our attentions to a venue that has not received such a production for many years, having been the home of Stomp for over a decade, but it takes the next step in its theatrical journey in 2018 as the percussive musical comes to a close.
Beginning, the latest play from David Eldridge starring Justine Mitchell and Sam Troughton, transfers from the Dorfman National Theatre to the West End, retaining its stars and demonstrating to more theatregoers how this won over audiences and critics on South Bank.
The story that attracted attention is set in the aftermath of a party, with two characters continuing the morning after. Those characters are Laura and Danny, played by Mitchell and Troughton, the former being the one who threw the party in her home and the latter being the last man standing. We follow events going forward, with more drinks and an unconventional romance amongst the options.
It is clearly a story that has resonated with audiences and those that attended performances at the National Theatre are bound to testify to its suitability for the West End, where compelling and gripping narratives are commonplace.
And part of its compelling nature is undoubtedly thanks to the work of actors Justine Mitchell and Sam Troughton, the latter a Shakespearean actor with credits across the capital and the former also a regular on the capital's stages. Mitchell's credits include Bodies at the Royal Court Theatre, The Resistable Rise Of Arturo Ui at the Donmar Warehouse and The Plough And The Stars at the National Theatre, amongst a host of others.
Equally, writer David Eldridge has penned a great deal of celebrated script prior to Beginning, with credits like Holy Warriors at Shakespeare's Globe Theatre and The Knot And The Heart at the Almeida Theatre, to name but two.
So audiences have a lot to anticipate when it comes to the next production headed to the Ambassadors Theatre, with a talented cast led by director Polly Findlay and working from David Eldridge's latest stand-out script. It won't be one to miss.
Beginning runs at the West End's Ambassadors Theatre in the New Year, opening on Monday 15th January 2018.
Show & Venue Information
Ambassadors Theatre
West Street
London
WC2H 9ND
Booking From
Monday, 15 January 2018
Booking To
Saturday, 24 March 2018
Running Time
1hr 50min (no interval)
Show Status:
production_closed